Following are machines available in - house.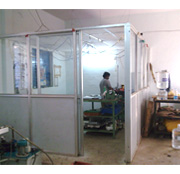 MICROMATIC CYLINDRICAL GRINDER model GCU - 350 X 1000mm.
WMW CYLINDRICAL GRINDER - 600MM
Lathe to accommodate 1,600mm length of job.
Drilling Machine.
Precision surface grinding machine (accuracy with in 0.002mm)
PLANO MILLING MACHINE - JOHN STRIK & SONS LTD., HALIFAX. UK
HORIZONTAL BORING MACHINE - PFEIFER, GERMANY, SIZE, CAPACITY - 600 (x) X 520 (y) x 1000 mm (z)
Test rig for spindle running test with variable frequency drive of Yaskawa, Japan make.
Dust free controlled temperature assembly room.