Special spindles not listed here can also be supplied as per your requirements.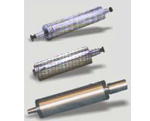 Spindles are used normally for grinding applications, fitted with angular contact fibre cage ball bearings with P3 / P4 grade or ceramic bearings, packed with KLUBER ISOFLEX NBU15 grease for life. Spindle diameters varies from 32 - 250mm, Length up to 500mm, and speeds up to 40000 rpm. Mist lubricated spindles are also manufactured. An exceptional system of dust and cutting swarf exclusion is used on spindles, foreign matter is prevented from passing into the bearings by a system of an air purge

These spindles have an in built electric motor, wherein the speed of the motor is proportional to the frequency of the electric supply. The variation in frequency is achieved from a static frequency inverter. Hybrid bearings with ceramic balls are used if the specification demands. The thermal movements on the spindle generated from the motor can be minimized by surrounding the motor portion with a water jacket / air circulation.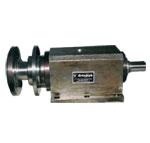 These spindles are used in CNC lathes for accurate turning, grooving, milling, fine boring, drilling applications.
The rpm of the spindle could vary from 500 to 8000 rpm. Generally we use bearings of P4 class angular contact ball bearings or taper roller bearings of reputed make.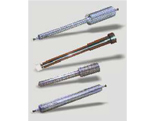 Spindles are used to grind lengthy bores in one setting. Spindles of dia 36 - 100mm and length up to 1500mm can be manufactured with assured accuracy of 0.003mm.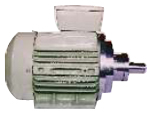 This type of spindle has a synchronous speed motor built direct onto the spindle shaft, thus forming a complete self contained unit which is carefully balanced to remove all traces of vibration. All driving complications are eliminated and the unit can be made very compact. These spindles are fitted with super precision preloaded angular contact ball bearings. This type of spindles are put into many uses including surface, face, slideway, cutter, broach and form grinding etc. Spindle can be supplied to run horizontally, vertically or at any angle. In the event of heavy coolant requirement, special design consideration need to be incorporated for which we might need the full details of the application.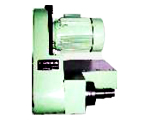 These can be mounted on any SPM's or Lathes for ID/ OD Grinding applications, the speed of the spindle ranges from 10,000 - 30,000 rpm. This grinding unit is fitted with a synchronous ranging from 1 h.p. to 3 h.p. at 3000 rpm, precision balanced electric driving motor, mounted on precision bearings, reducing vibrations to a minimum. This could be used for internal as well as external grinding applications. The accessories supplied with this unit are wheel adaptor, pulley and balancing mandrel.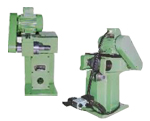 These spindle units are used for dressing applications usually with diamond rollers to give different profiles to the grinding wheels, to have uniform dressing on the wheel. The spindle unit will have a swing up and down up to 12 degree. This Dressing Unit can be used on Thread, Gear, Profile Grinding machines.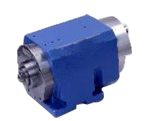 These spindles are assembled with angular contact/ NNK/ taper roller bearings for rigidity. They can be used for applications in Grinding, Milling, Fine Boring, Drilling, Turning, Wood Forming etc.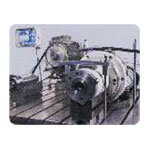 Spindles are tested as per DIN 8637 Standards for Temperature, Vibration at maximum speed. Condition monitoring will be undertaken on specific request.